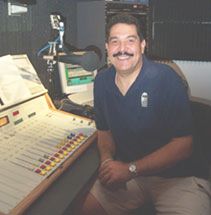 For 22 years – and in a variety of roles — Ray Cruz has been at the forefront of the Latin music scene in Hawaii. He was a percussionist with various local bands, including: Augie Rey's Little Big Band; Conjunto Caché; and Tropi-Jazz which oftentimes were opening acts for major Latin artists performing in the islands. He operated a business selling Latin cassettes, CDs, videos, t-shirts, flags and other Latin-themed accessories.
In 1990, he started his radio show host career in Hawaii on KTUH, the University of Hawaii station with his Sabor Tropical show, which focused on the Latin genres of Salsa, Merengue and Latin Jazz. Then in 1991, as a volunteer, he began his long career at Hawaii Public Radio as the host of the Sabor Tropical Latin music show playing Salsa, classic Salsa, Afro-Cuban Latin Jazz. He also did interviews and community calendars.
From 1991 to the present day, he has entertained as a house DJ at various popular venues, including the: Pearl Harbor Palms; Pearl Harbor Banyan's; Reni's; Blue Zebra; Black Orchid; Café Sistina; and Rumours Night Club in the A La Moana Hotel.
Since 1990, he has also served as MC for various Latin concerts here, including: Tito Puente; Celia Cruz; Eddie Palmieri; Fania Legends; Marc Anthony; and, most recently, the Afro-Cuban All Stars. He has also MC'ed various Hispanic festivals and events, including the: Hispanic Heritage Festivals in Kapiolani Park; 1998 Miss Universe Pageant; Salsa in Paradise 1&2 and the Annual Salsathon at McCoy Pavilion.
In 2002, Ray was awarded a Lifetime Achievement Award at the 4th Annual Los Angeles Salsa Congress. This annual event is considered by many the premiere salsa event that brings together dancers and talent from around the globe creating unity through salsa.
On the mainstream community side, he is the first Latino in Hawaii to anchor National Public Radio's "All Things Considered." He was the host of the "Foreword" morning show on Hawaii Public Radio. He often leads community outreach classes which provide middle and high school students – as well as adult community members — insights to the radio industry.
Through it all: his commitment to excellence and perfecting his crafts has never wavered; his insistence on providing Hawaii's Latin music fans the best in both classic and contemporary Latin music has never lost its tenacity; and the dedication he has felt to continue perpetuating the diversity, beauty and passion of our Latin music genres has never lost its drive.
Fifty-two weeks every year – for 22 years – in good times and in bad, the "voice" of Latin music in Hawaii – and now the "voice" of Hawaii Public Radio — has been something our community could count on. He is the consummate Media Advocate in both the Hispanic and mainstream communities.
He has been an important part of the growth of Latin music in the islands. Born in NYC and raised in Puerto Rico, Ray has a solid foundation of what salsa was, is and what direction it is taking for the continued growth of the Latin music industry. He has a passion for what he does and lives by this motto every time he performs at a nightclub or when he is on the air-waves.
"An artist creates the music…but the DJ delivers its message!
Asst. Director of Operations
Hawaii Public Radio
Honolulu, Hawaii
808-792-8232 (Direct)
808-955-8821 (Office)
808-226-1221 (Cell)