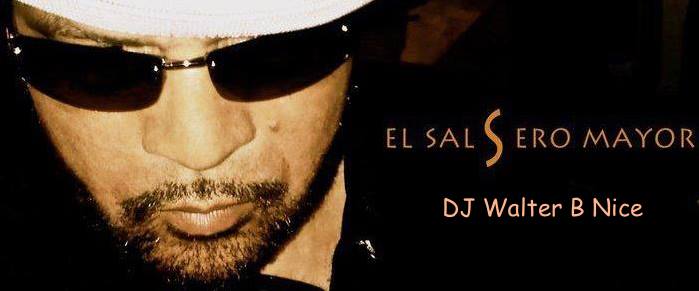 By Natalie Maniscalco
Born in Santurce, Puerto Rico and raised on the streets of New York City, Walter Baez, known as DJ Walter B Nice boasts over 30 years of experience spinning in New York City hotspots including Webster Hall, The China Club, The Roxy, Latin Quarters (LQ's), The Copacabana, and The Palladium. For the past two years, he's been leading NewGenSalsa.com, an online promotional forum for new and emerging Salsa artists with a mission to elevate Salsa music to the heights of its glory days! We caught up with the mastermind behind the music for some insight into his life as a DJ in NYC.
SALSEEK: How did you get started as a DJ?
DJ Walter B Nice: Before I was a DJ I was a bass player who started playing professionally in bands at the age of 12 years old. As a band member I had the pleasure of playing various styles of music that ranged from Rock, Latin Jazz, R&B, and my favorite genre, Salsa. By the late 60s I had begun to work on my DJ technique as a side hobby while still playing for bands, but it wasn't until around 1971 after a visit to a New York City nightclub that I started to take DJing seriously. While hanging out after a gig with my band I had overheard some girls talking about a club called the Sanctuary, and I asked my best friend if he would be willing to come and check it out with me. He said yes, and I'm glad he did because as it turned out it would change my whole life. I remember it like it was just yesterday, the venue was located on 43rd street and 9th avenue and was formerly a Baptist church that was converted into a club. As two former altar boys with religious upbringings, my friend and I initially resisted the idea of going into a church to dance, but after having some time to contemplate whether or not to go in, we made the decision to head towards the entrance. As we made our way in to the dimly lit club and started to go up the stairs the pulsating music reverberated through our chests like nothing we had ever experienced before. With each step we inched towards the main floor and the music just got louder and louder until we finally reached the dance floor where it was pure bedlam! The atmosphere was chaotic and unlike anything I had seen before, but despite everything that was going on before my eyes I was totally focused on the DJ playing the music. I decided to walk up to the person in the DJ booth who I later found out was DJ Francis Grasso (a pioneer of the DJ culture who is considered by many to be the first modern club DJ), and he was nice enough to share some pointers with me on what equipment I needed to become a serious professional. DJ Francis Grasso would go on to be a good friend of mine who gave me a lot of inspiration during my early years as a DJ. With my interest in playing music as a part of a band waning due to the constant clash of egos amongst my band members; DJing seemed like the natural course of progression for me to express my love for music and my night at the Sanctuary is what started it all for me.
SALSEEK: You are also the founder of NewGenSalsa.com and a writer; tell us about the site and what inspired you to create it?
DJ Walter B Nice: My inspiration to create the website came from my love and appreciation for Salsa and my eagerness to try and help invigorate the music of my youth. The genre has fallen on hard times in recent years due to the neglect shown by major record labels, radio stations, and the so called "Salseros" who have failed to support live performances and events at the few venues left that cater to our music. Above all, the lack of a true youth movement within Salsa has been one of the biggest reasons why the genre has experienced such a decline in popularity. Our young people seem to support everything else but Salsa nowadays, and in order for the music to have any chance of survival we need to make more of a concerted effort to involve them in the same ways that other genres such as Bachata have successfully done. With that being said, I knew we needed a vehicle to promote the new salsa being recorded via the various independent labels around the world and through the creation of NewGenSalsa.com that is exactly what I have been able to do. Through my site I have been able to keep followers abreast of all the latest Salsa music through my weekly music reviews and my NewGenSalsa Top 70 Playlist which has not only become very popular amongst DJs/musicians, but also fans and music lovers that find it helpful in deciding what new music to buy.
SALSEEK: What do you love most about combining your passion for music and for writing?
DJ Walter B Nice: Well to be honest, nothing comes close to the passion I have for the music. And I don't consider myself a writer by any means. My involvement as a writer came by the necessity for me to document salsa culture and to help expose the many artists and bands that send me their music to have it reviewed on my site. While I may not be the most technical of writers, my knowledge and enthusiasm for the music more than makes up for whatever formal training I may lack. In my experience dealing with musicians, there are few things that can match the feeling of having your music positively received by fans and critics alike. A great review can go a long way to help the sales of an album and in many cases it can help attract promoters that may lead to paying gigs. I'm proud to say that my website has been able to open these doors of opportunity for several artists over the last two years.
SALSEEK: Who's throwing the best parties at the moment in the NYC Salsa scene?
DJ Walter B Nice:
1. One of my favorites would have to be the Sunset Salsa Summer Dance Event that SALSEEK, Talia and DJ Woody put on during the summer months. Next year I would very much like to be a guest DJ and work with DJ Woody.
2. We also have Gonzalez Y Gonzalez where I was DJing all summer long. It is the only venue that has live Salsa bands Thursdays, Fridays and Saturdays.
3. On Mondays the Taj Lounge with your hosts Talia and Mike and DJ Woody
4. Wednesdays at LQs with your host Mike Pena
5. Salsa Jam Monthly events with your hosts Glenda and Elliott and Mc'd by DJ Ataca.
6. Saturdays at the Westgate lounge
7. Wednesdays at Taino Towers hosted by Jimmy Delgado
8. SOBs Latin Groove after work Fridays.
SALSEEK: What's the best event you've ever played at/put on?
DJ Walter B Nice: The best event I have ever played for would be when I was spinning club music at The Roxy in New York City during the early 90's. Playing for a capacity crowd of over 3,000 partygoers with another 1,000 or so New Yorkers lining the city sidewalks waiting to get inside was the highlight of my career as a club DJ. To have the power to control that many people through music was an indescribable feeling. The best event I put on would have to be the "Latino Unidos" Hurricane Sandy benefit that Daniel Ortiz, Renan Morales, and myself put together to raise money for those affected by last year's storm. The event was held last January and included a lineup of 5 orchestras and over 90 musicians and DJs. To have had that many performers under the same roof in this era is unheard of, and you would have to go back to the 70s for the last time that many musicians were part of a dance event. It definitely feels good knowing that through the power of music we were able to bring so many people together in an effort to put a smile on the faces of those families who were affected by the tragic storm.
SALSEEK: What was your first record or CD that you bought?
DJ Walter B Nice:
My first Rock record – "A Hard Day's Night" The Beatles
First R&B record – "What's Going On" Marvin Gaye
First Disco – "Love To Love You Baby" Donna Summers
First Rap record – "King Tim The 3rd" Fat Back Band
First Salsa record – "Azurca Pa Ti" Eddie Palmieri
SALSEEK: Out of all the tunes you have, which one 'never fails?'
DJ Walter B Nice: "Pa Bravo Yo (Live Recording)" by Herman Olivera.
SALSEEK: So how is the scene in your eyes at the moment?
DJ Walter B Nice: The salsa scene here in the Tri-state area is nowhere near what it was 20 years ago. The baby boomers that have been the main age group supporting this genre are no longer capable of doing so. And the venues are not helping the cause by hiring "Un Vente Tu" bands that for the most part play bad versions of classic songs. It is very important that we once again get the young involved with our music. Otherwise, it doesn't look good for this genre, which is currently in life support.
SALSEEK: What do you do outside of the dance/ music scene?
DJ Walter B Nice: For me there is nothing outside of the music /dance scene. My mind is always at work on ways to help this genre get back to where it once was.
SALSEEK: Where can we find updates of where you will be Djing?
DJ Walter B Nice: You could find out where I'll be spinning by going to one of the following links:
Face Book, https://www.facebook.com/groups/260897320636537/
Twitter, https://twitter.com/NewGenSalsa
Website www.newgensalsa.com
оветы для целеустремленных боксеров
купить бытовую технику: стиральные машины