Here you can watch a quick teaser of the second disc of Beyond Salsa: El Gran Combo de Puerto Rico a Sentido Común Original Production.
What is Beyond Salsa?
"Beyond Salsa" is the name of the production that celebrates El Gran Combo de Puerto Rico. This documentary project incorporates the recording of live performances, interviews & archival footage to celebrate the trajectory of the most heard-around-the-world Salsa Group. This film and images are part of a limited never before conceived project, which shows the quality and unbeatable sounds of the "Universidad de la Salsa".
Celebrating Music History
In order to create the film at the quality these legendary group deserves, we have been following the group for the past years and compiled thousands of hours of historical footage of the past 50 years of the band. We will get to know their story through the anecdote of each band member, while enjoying their most popular songs, recorded live!
This film and images are part limited project, which demonstrates the quality and unique sounds of the "Universidad de la Salsa" (The University of Salsa). These music legends will be enjoyed at an optimum quality thanks to the fact that the video will be recorded on "High Definition"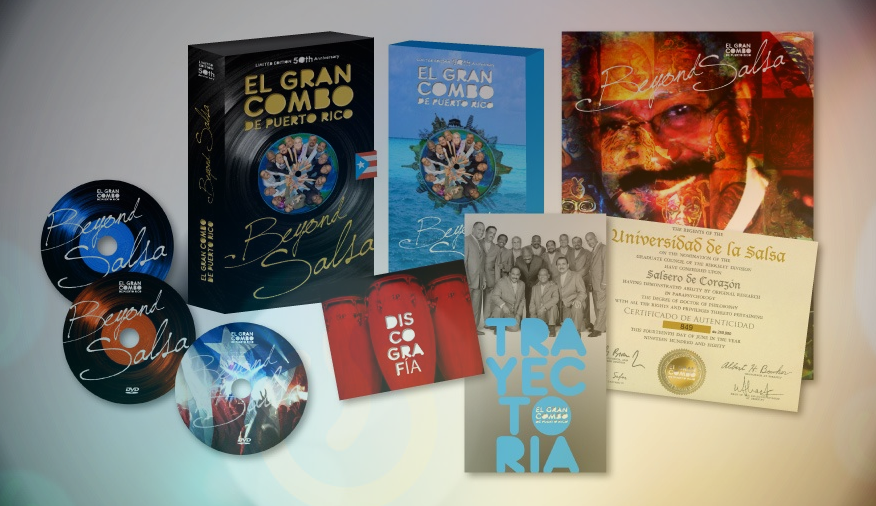 The Collector's Box Set includes:
• 2 DVD's & 1 Blu Ray
• Collector's Poster
• Essay on the History of El Gran Combo
• Discography
• Certificate of Authenticity (with serial number and official Beyond Salsa seal)