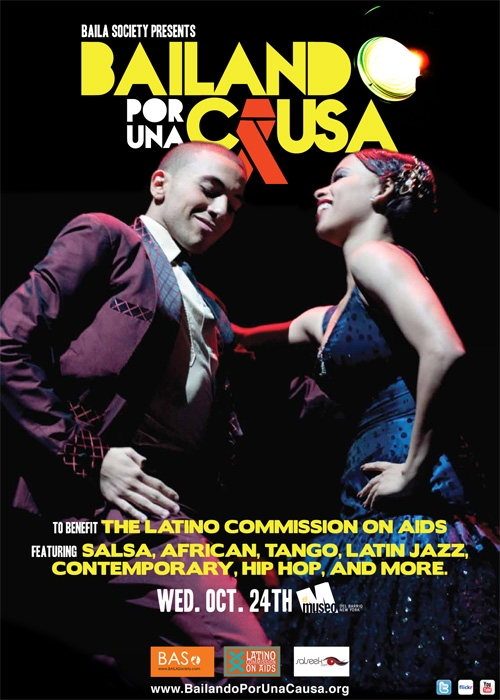 BAILA SOCIETY PRESENTS "BAILANDO POR UNA CAUSA"
A NIGHT OF DANCING TO BENEFIT THE LATINO COMMISSION ON AIDS
Featuring Salsa, African, Contemporary, Flamenco, Tango, HipHop and more
New York, New York City (September XX, 2012) — Baila Society, a leading New York Salsa dance company, presents the third annual "Bailando Por Una Causa": A Night of Dancing, to raise awareness and funds for the Latino Commission on AIDS, a non-profit organization dedicated to fighting the spread of HIV/AIDS in all communities on Wednesday, October 24th at the El Museo Del Barrio on 1230 5th Avenue at 104th Street. VIP Cocktail reception begins at 6pm and performance at 7pm, followed by an after party at Sweet Jane's Lounge.
This year's phenomenal showcase of performances will feature some of New York City's most esteemed dance companies including Baila Society, Ballet Hispanico BHdos, Dance Theatre of Harlem, Djoniba Dance Company, Billy Fajardo & Katie Marlow, Unified Dance Studio, Nelida Tirado and more. Each genre of dance represents the cultures and traditions of the diverse communities affected by HIV/AIDS and equally engage in addressing the impact of HIV/AIDS and stigma on all communities. "As the son of a mother who died of AIDS and a father who contracted HIV, recovered and is now living a healthy life, it means a lot to me to collaborate again with the Commission," said Joseph Rivera, co-founder of Baila Society. "We are very proud to bring together this talented collection of dancers with the hopes of not only raising money for the Commission but to also create awareness for the vital work the Commission does in combating HIV/AIDS throughout all communities."
100% of all proceeds from the event will benefit the Latino Commission on AIDS. As the fastest growing group in New York City and the United States, increased efforts are crucial in order to improve the health and wellness of Latinos and of all communities. In New York City alone, over 36,000 Latinos live with HIV/AIDS. Early sexual activity is also a risk factor for contracting HIV/AIDS, and among sexually active students, Hispanics were the least likely to report using a condom. Education, prevention and awareness are imperative in the fight against HIV/AIDS. "It has been an amazing experience to work closely with Baila Society and El Museo del Barrio for the past three years for this special event," says Guillermo Chacon, President of the Latino Commission on AIDS. "Bailando Por Una Causa represents a sign of hope, energy, support and passion to continue our prevention and education of HIV/AIDS in our communities, and we are grateful to Baila Society for leading this beautiful night of dance for a good cause."
The evening will feature a VIP cocktail reception at 6:00pm with performances beginning at 7:00pm. VIP tickets, which include a fully catered cocktail hour and preferred seating, are $50 and performance tickets are $25. Student performance tickets are available at a discount price of $20. All are welcome to the official after party at 10pm which will be held at Sweet Jane's located on 172 East 106th Street.
To purchase tickets or for more information about the event and how you can get involved, please visit www.BailandoPorUnaCausa.org or email Natasha Quirch at nquirch@latiniaids.org or at 212.675.3288 x316. For all media inquiries, please contact Natalie Maniscalco at Natalie@salseek.com or at 845.659.6506.
ABOUT BAILA SOCIETY
BAILA Society (BASo) instructs NY Salsa in New York City and around the world. Teaching absolute beginners and professional dancers, classes include footwork, partnerwork, styling/spinning, performance technique, dance/music theory, Latin culture and history, as well as stretching and conditioning. With the launch of the BASo Online Dance Academy they have pioneered online dance instruction to reach international students and to facilitate the learning process at home and today teaches students from over 47 countries worldwide how to dance Salsa. www.bailasociety.com/
ABOUT THE LATINO COMMISSION ON AIDS
The Latino Commission on AIDS is a nonprofit membership organization founded in 1990 dedicated to addressing the health challenges and responding to the impact of HIV/AIDS. The Commission is the leading organization coordinating National Hispanic Hepatitis Awareness Day (May 15), National Latino AIDS Awareness Day (October 15), Latinos in the Deep South and other prevention, research, capacity building and advocacy programs across the United States and its territories. For more information visit www.latinoaids.org
FOR IMMEDIATE RELEASE
Contact: Natalie Maniscalco
SALSEEK pr & events
www.salseek.com
Natalie@salseek.com
Mobile: 845.659.6506
www.BailandoPorUnaCausa.org