Puerto Rican salsa artist Andy Montañez is receiving medical treatment in San Juan on his right leg after being injured in an automobile accident last week in Colombia.  The wife of the well-known artist, Xiomara Acuña, said Tuesday in an interview with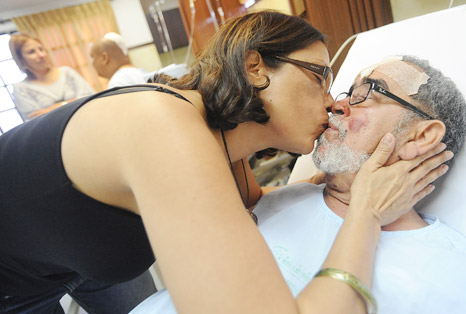 Efe that the performer of "Julia," "Un verano en Nueva York" and "Las hojas blancas" is "very happy" to be back home.
"I see him a bit emotional and that seems to do him good, according to the doctors, but he tends to get depressed if he's alone," Acuña said.  She said that Montañez will not need surgeons to install screws in the little toe on his right foot despite what doctors who attended him in Colombia had said.  Acuña said that it will take about six months for his ankle to recover, but that will not prevent the singer from offering a concert commemorating the 50 years of his career on May 26 in San Juan's Jose M. Agrelot Coliseum.
It is expected that Montañez will perform most of his hits at a concert where Johnny Ventura, Daddy Yankee, Tego Calderon and Julio Voltio have been announced as invited artists.  "Yes, the concerts can continue, the doctors told him. If he has the spirit to do so, we'll continue on. Now, we want him to take it as a challenge," Acuña said.
Source: Fox News Latino